Nodaho Bowhunters, Inc.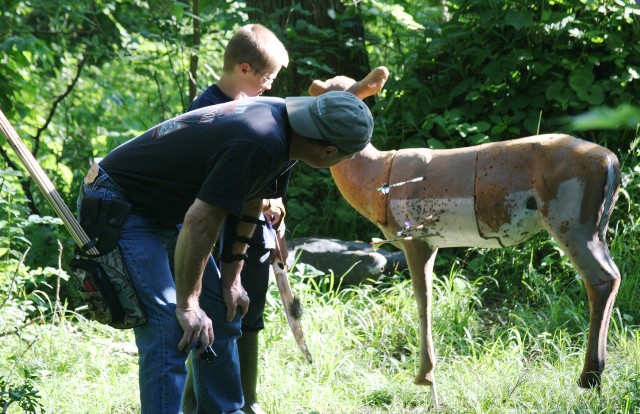 Nodaho Bow Hunters was started "officially" on November 24, 1982 by a group of guys getting together in a feed store in Skidmore just because they wanted to socialize and have fun with other archery buffs during the winter months. They arrived at the name "Nodaho" as a combination of Nodaway and Holt Counties. Charter members included President Steve Carpenter, Jon Marion, Max Medsker, Quinn Talbott, Jim Collin, Curt Culp & Rodney Allen. They also started an outdoor range North of Graham on property owned by the late Jim Dorman and Luella Dorman the following year.
Indoor Club
After a few years in the feed store in Skidmore, permission was granted by the Lance family to rent the building on the East end of Jackson Street known as the old Kneale Produce building. As the Club grew after a few years, it became apparent that they had simply outgrown that building, too. It also became a burden to heat – often times during a snow storm they would literally have to sweep snow off the floor so they could continue to shoot. The search was on for a different building at a reasonable cost. After an unsuccessful Winter searching
for a new site, Mike and Sue Flanary had a real estate auction in the Spring of 1996 because they were moving to Branson, MO – included was their log home at the south end of Maple Avenue and Mike's carpenter shop across the road to the East. The auctioneer, Bill Brookshier, happened to be a member of Nodaho Bow Hunters, and an idea was formed. After a Club meeting, it was decided they could come up with "X" amount of dollars to purchase the land and carpenter shop with the hopes of building a range. Dreams became a reality auction day when they purchased the land, and plans were immediately put together upon how to build an addition to serve as a range. They also incorporated as a nonprofit organization that year. The Nodaho Indoor Bow Range you see today at the South end of Maple Street is the result of hard work, determination, and good old Midwest ingenuity as they literally built the range themselves using the skills and expertise of their members and friends. The 16-lane range was finished in time for the 1996-97 indoor season. Indoor leagues start in November, and tournaments are held on the 2nd Saturday and Sunday of each December, January and February, and attract archers of all ages from a 4-state area.

Outdoor Club
Nodaho Bow Hunters also continue to operate the 3-D outdoor range 1 ¼ miles North of Graham on Elkhorn Trail. "A" range is set up for members to practice a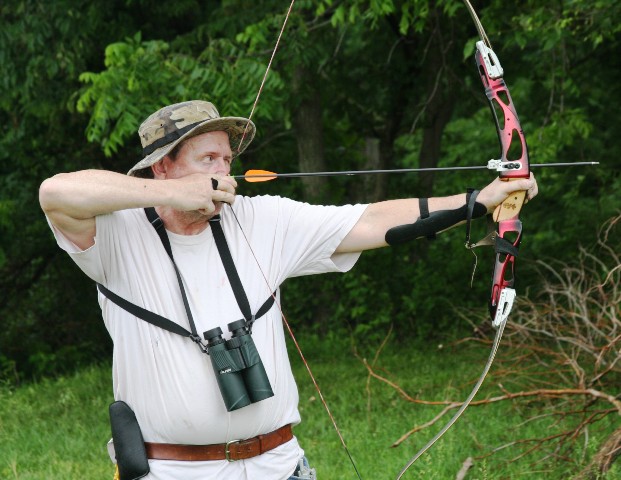 ny time. A new shed was built in 1998, once again using member manpower and tin left over from the indoor building. To set up a standard 40 target course for tournament weekends on the 2nd Sunday of every month from April thru September, Nodaho also has permission from the Wakely family to set up "B" range in their timber piece across the road. Unlike Field Archery, where the distance to each target is known, 3-D archery targets (targets that look like an animal) are set throughout the course at different yardages, and a person has to guess how far the target is. It is quite challenging and fun, and tournament weekends also attract archers from a 4-state area.
Someone once said, "You guys sure do work hard to have fun", and it's true. It is also a great sport for the whole family. Nodaho Bow Hunters welcome new members to join them in the fun and challenge of archery. If you are interested in indoor or outdoor archery, give any Nodaho member a call.